With many of my close friends expecting kids, I joke with Chris, that we are going to need to get a kid so we can having something to talk about with my friends. Of course by this I mean an animal, not a real child.. As that is several years away...
Chris and I agreed that we both want another cat.. As you might remember, I have an all white cat, Henry (Photo above & I've blogged about him
here
) I inherited Henry in college from a friend. Henry is the most unique cat ever! He loves water, and has been known to jump in the tub for a swim when I am drawing a bath.. He plays fetch, and loves to cuddle..
As of know Chris and I are in love with two breeds of cats (C's mom has one of each back home). I am open to either, but we are both doing some research on them. I am open to anything my readers have to say based on which one is cuter, or thoughts on which breed we should go with..
1. A Ragdoll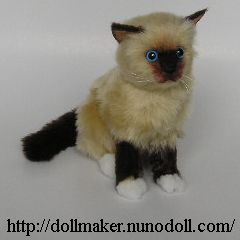 2. a Red Persian